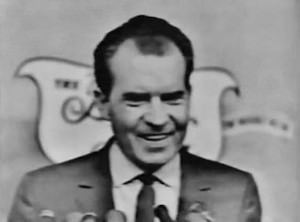 In this telephone call at 11:20 AM on November 9, 1962, Kennedy spoke with newly re-elected California Governor Pat Brown (Democrat). It was only a few days after the mid-term elections. Kennedy congratulated Brown on his victory in a hard fought, and often nasty, election battle against Richard Nixon (Republican).{{1}}
Two days earlier, Nixon, had called a press conference and lashed out at the reporters, saying "you don't have Nixon to kick around any more, because, gentlemen, this is my last press conference."
Part way through the recording, Pat Brown asks JFK to say hello to his son, Jerry, who himself later became governor of California. Jerry Brown had taken a leave of absence of his studies at Yale University in order to help on his father's campaign. At the time of the call, the Browns were in Sacramento.
This recordings includes several points at which the Dictabelt needle skips, probably from creases and damage to the original belt. That makes it hard to reconstruct the flow of the conversation because of the repetition of passages and garbled audio. And it's clear when listening to it that some dialog has been lost.
---
Dictabelt 6A, President's Office Files, Presidential Recordings Collection, John F. Kennedy Library. Transcript by David Coleman (a version will appear in The Presidential Recordings: John F. Kennedy volume 5 (New York: W.W. Norton, forthcoming 2013).
[[1]]The Kennedy Library finding aid dates this call, along with others in a series of post-election congratulatory calls with William Guy, John Connally, John Reynolds, and Edward Kennedy, as taking place on November 7. But in reviewing the White House telephone logs, I found that they took place two days later, on November 9. The telephone logs also provide the time of each call.[[1]]
---

Also published on Medium.