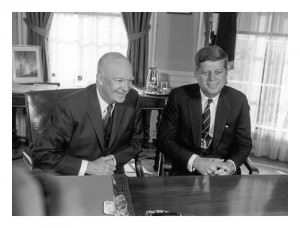 In this phone conversation just hours before his speech to the nation on October 22, 1962, President Kennedy updates former President Dwight Eisenhower on the latest Cuba developments.
Kennedy had made sure that Eisenhower had been briefed regularly throughout the crisis, often by Director of Central Intelligence John McCone, who had been chairman of the Atomic Energy Commission in the Eisenhower administration.
As a leading figure in the Republican party, Eisenhower had criticized the Kennedy administration in sometimes harsh terms. In this call, Kennedy makes sure to get Eisenhower to say he would do the same thing under the circumstances.
Transcript from Ernest May and Philip Zelikow, eds., The Presidential Recordings: John F. Kennedy, vol. 3 (New York: W.W. Norton, 2001), pp.14-15.